Dry Bulk Material Storage
National Bulk Equipment brings to bulk material storage projects the advanced capabilities and resources of our engineered-to-application project delivery method together with the fullstream portfolio of NBE bulk material handling equipment. NBE bulk material storage projects provide processing and production operations the means to profitably manage the procurement, storage, handling, and line introduction of bulk material. From large-capacity exterior silos to portable mobile storage hoppers, NBE bulk material storage projects protect product from contamination and harmful environments, and keep production facilities organized and clean. The integration of NBE equipment and automation enables high-volume processing operations to reduce material cost volatility, improve labor allocation, and increase total process effectiveness.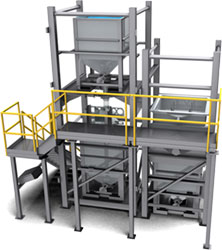 Bins and Hoppers
See how NBE mobile storage hoppers and portable surge bins contribute process-critical performance advantages during bulk material receiving, transfer, and storage operations. A more versatile alternative to fixed-location conveyors or high-capacity silos, NBE mobile storage hoppers and portable surge bins help stabilizing supply chain variables by effectively storing and staging bulk material ahead of high-volume runs while optimizing valuable floorspace.