Liquid Packaging Systems
National Bulk Equipment liquid packaging systems enable processing and packaging operations handling bulk liquids to run at, or above designed uptime, rate, and yield targets when filling drums, IBC totes, and pails. Performance-proven construction ensures NBE liquid filling systems are built to handle extended duty cycles and endure harsh process environments. NBE engineered-to-application liquid filling systems provide total process advantages by outputting accurately filled containers, while reducing product loss, and improving labor safety and efficiency.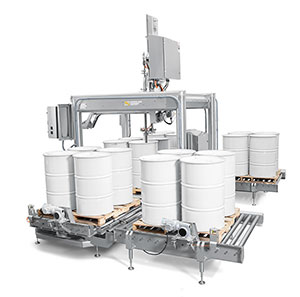 Drum and Tote Filling
National Bulk Equipment intermediate bulk container (IBC) filling systems bring increased finished-package throughput and improved operator-equipment interaction to bulk liquid packaging operations filling drums, totes, and other IBCs. NBE engineered-to-application IBC filling systems ensure optimal fill rates and exceptional fill accuracy, regardless of challenging product viscosities, foaming, temperature, or solids concentration. The NBE diving-nozzle lance design, guided by triangulating sensors, lance-centering indicator lights, and a nozzle-view camera, increases operator efficiency and process performance.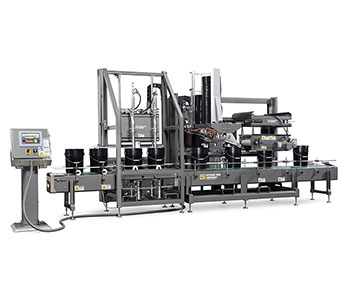 Pail Filling
NBE pail filling systems are engineered-to-application; whether the project is a fullstream integration including upstream liquid supply, container de-nesting, filling, sealing, and downstream package palletizing, or a standalone pail filling and sealing system. The diving-nozzle design of NBE pail filling systems enables fast and accurate filling of difficult liquids. Regardless of foaming, viscosity, solids concentration, or temperature, NBE pail filling systems are designed to reduce product loss and package cycle times. The dual-head design of NBE pail fillers provides increased package throughput and line performance.