Liquid Processing Systems
National Bulk Equipment liquid processing systems are designed, engineered, and manufactured by NBE to bring optimal effectiveness to processing operations handling bulk liquids. From slurry and solution systems to process tanks and modular skid systems, NBE considers the fullstream effect of each system we provide to ensure the integration of NBE liquid processing systems will deliver optimal contribution to total process availability. NBE engineered-to-application project delivery enables project owners, AECs, and EPCs to advance the performance of their upstream, midstream, and downstream liquid processing projects.
Slurry & Solution
NBE slurry processing and handling systems, and solution processing and handling systems are designed, engineered, and manufactured by NBE to provide optimal fullstream performance. From upstream dry solids supply, discharge, and dust control, to midstream ingredient metering and feeding, to downstream storage or packaging, NBE slurry or solution projects ensure reliable, repeatable production while reducing material waste and energy consumption. NBE attention to clean design and the integration of clean-in-place systems, improves process availability and operator-equipment interactions.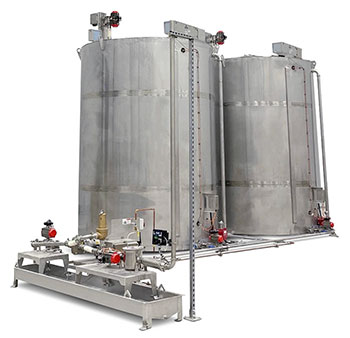 Tanks
NBE bulk liquid handling tanks are engineered-to-application. Regardless of the application; reaction tanks, melting tanks, blending tanks, holding tanks, or other process tanks, NBE designs, engineers, and builds each tank to its particular specifications for construction and in-use performance. Whether a standalone holding tank for batch processing, or multiple mixing and process tanks integrated to a modular skid, NBE engineers from a fullstream perspective. The NBE fullstream advantage ensures comprehensive process improvement.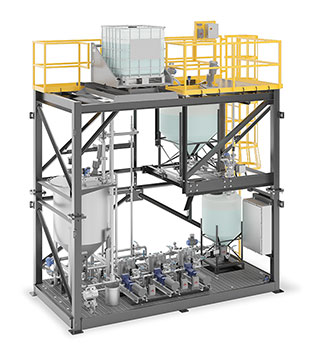 Skids
NBE modular process skid systems bring to legacy processing operations the performance and project delivery advantages of new or expanded process functions, without the time, costs, and complexity of conventional new construction. For applications requiring inline integration, NBE designs, engineers, and manufactures continuous mixing systems that ensure exceptional process accuracy and versatility. For batching applications, NBE skid systems provide complete operation, from raw material input and processing to finished product storage and packaging.