Bag Emptying and Process Material Infeed
National Bulk Equipment automated bag emptying systems ensure consistent, reliable product infeed while protecting downstream processes from contaminants, and protecting personnel and equipment from product dust release. NBE bag slitting systems are designed, built, tested, and integrated according to the NBE engineered-to-application (ETA) project delivery method. ETA project execution leverages advanced concept development, application analyses, and manufacturing resources to provide optimal, fullstream process effectiveness.
NBE automated bag emptying systems aid in the efficient management of process resources. Accurate material infeed and supply to downstream operations reduces material waste and product rework. Automated, enclosed emptying of material from multiwall, polywoven, burlap, or other bag types optimizes labor allocation and reduces facility maintenance.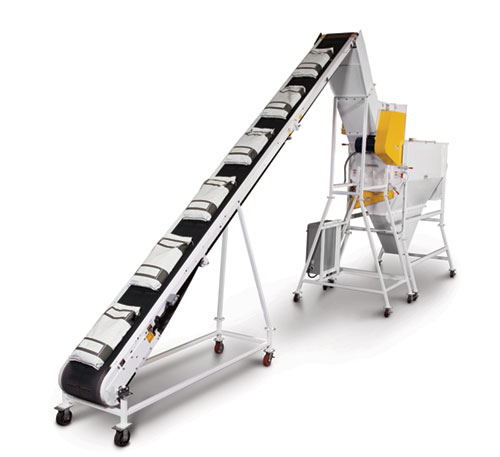 Palletized Bag Emptying and Product Infeed
NBE bag emptying systems automatically remove contents from bags while simultaneously providing a consistent supply of process material to downstream operations. From 5-pound bags to 50-pound bags or larger; from 100 bags per hour to 1,000 bags per hour or more; whether materials are sluggish or free-flowing, the application-specific engineering of NBE bag emptying and product infeed systems improves fullstream process performance.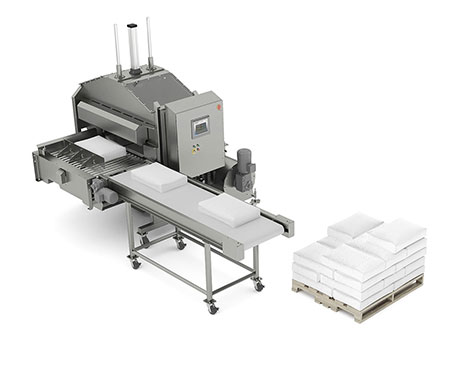 Contaminant-control Bag Emptying and Product Infeed
NBE automated, contaminant-control bag opening and infeed systems help to prevent the introduction to the product stream of contaminant hazards commonly found on bags received from facilities or logistics providers without appropriate controls in place. The automated bag emptying sequence eliminates operator use of razor knives, reduces operator repetitive motion conditions, and prevents material dust from migrating throughout the facility. NBE contaminant-control bag emptying and product infeed systems work to increased production yield while reducing product rework.