Product Reclaim and Recovery
National Bulk Equipment product recovery projects are enabling brand owners, contract packagers, EACs, and EPCs to reduce production material loss, advance sustainability initiatives, and increase production yield from their product packaging operations. Unsalable packaged product can take many forms. Packages may be out of weight or mislabeled. Packaged contents may be off-spec or potentially contaminated. NBE product reclamation and recovery projects provide automated and controlled removal and recovery of dry or liquid contents from packaging. The recovered packaging is collected for recycling or proper disposal, and the recovered contents can be appropriately re-used, resold, or disposed of.
The NBE engineered-to-application (ETA) project execution framework ensures optimal process performance. From early-stage, on-site process evaluation to package and product feasibility testing. From constructive, responsive project management to full-scale FATs and turnkey installation and start-up services. NBE product reclaim and recovery projects greatly reduce material and packaging waste, protect brand integrity, and improve fullstream line performance.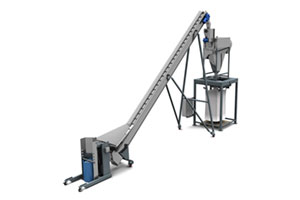 Single-Pack Reclaim: Dry Product
Watch NBE engineered-to-application product recovery projects reclaim production material from single-pack packaging. Regardless of the packaging type or the packaged contents, these NBE product reclamation projects are designed to application-specific requirements to ensure optimal mechanical and controls integration to legacy production environments. What previously were labor-intensive, manual processes are now automated operations that have improved operator effectiveness and safety, and increased process efficiency.
High-throughput Reclaim
See how NBE product recovery projects enable continuous-process operations to increase production yield and eliminate off-spec material disposal even when periodic process defects or other potential product loss events occur. Proactive application analysis, part of the NBE engineered-to-application project delivery method, leverages process flow diagramming, 3D modeling, and equipment effectiveness analysis to inform application-specific design and engineering. Whether continuous processing, or high-capacity batch processing, NBE high-throughput material reclamation projects function within the fullstream context to reduce material loss and advance sustainably sound production operations.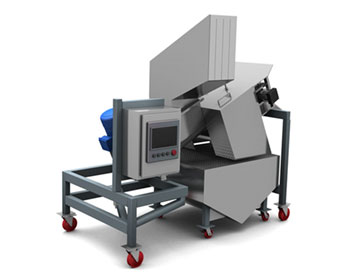 Single-pack Reclaim: Liquid Product
Observe how NBE engineered-to-application project delivery brought particular design and engineering insights to product reclamation projects for liquid-filled packaging. Familiar with the challenging functional specifications and sanitary standards required for liquid reclamation, NBE advanced the development of performance-built recovery projects for liquid-filled packaging applications where the market commonly had mis-applied dry product recovery systems. NBE liquid reclaim projects provide automated separation and recovery of packaged liquid contents and packaging material.