Dry Bulk Material Mixing
National Bulk Equipment high-capacity mixing projects are engineered from a fullstream process perspective that is recognized by project owners, AECs, and EPCs as essential to the optimal upstream and downstream performance of their processing and packaging operations. NBE engineered-to-application (ETA) project execution leverages mutually defined process specifications and requirements to deliver high-capacity material mixing that functions as the perfect midstream integration; receiving upstream material infeed and delivering downstream material supply. For every challenging process material type or for the most challenging process rate, ETA project execution requires process material performance tests and pre-production mechanical feasibility tests. These comprehensive testing protocols ensure every NBE bulk material mixing project is designed, engineered, built, installed, and commissioned based on performance-proven process knowledge and expertise. NBE integrated automation brings fullstream sensing, monitoring, and reporting capabilities to high-capacity material mixing projects; providing project operators and project owners tangible data for optimizing material mixing and blending cycle times.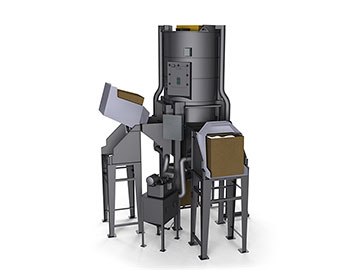 Jumbo Mixers
See how NBE engineered-to-application bulk material mixing projects improve blend quality and reduce mix times despite rigorous run rate requirements and high-volume process capacity demands. Whether project design specifications necessitate top-load or bottom-load; whether mix capacity is 1,000 pounds or 100,000 pounds, NBE bulk material mixing projects provide thoroughly blended, homogeneous finished product mixes to downstream process operations. The integrated automation of these NBE bulk material mixing projects enables mixing operations, diagnostics, and calibration to be directed from within the fullstream controls architecture of the project owner.