Dry Bulk Material Mixing
NBE dry bulk material mixing systems are engineered and manufactured specifically for industrial and commercial applications where processing operations require thorough and homogeneous mixing of dry materials. From batch mixing systems, to full-scales continuous mixing operations, the NBE line of mixers delivers fast and complete mixing of powders, pellets, granules, and other dry solids.
NBE process-integrated dry bulk material mixing systems can also improve process performance upstream and downstream of the material mixing operation. System-wide sensing, monitoring, and reporting, from NBE controls and automation; bring accurate, repeatable, and reliable output to bulk material mixing applications.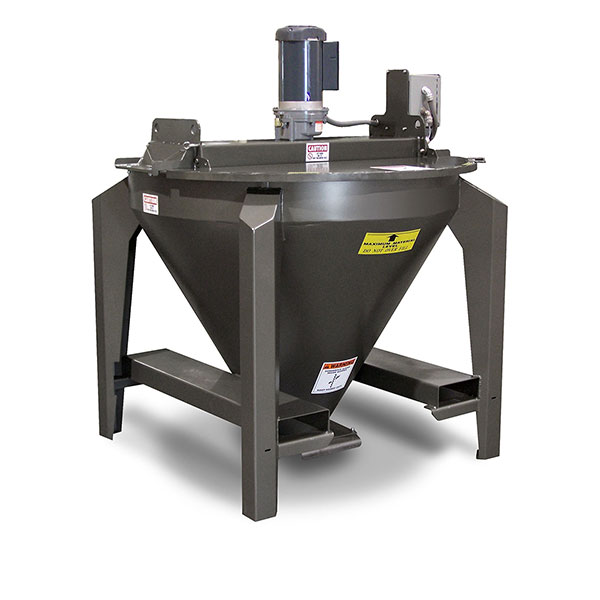 Quick Mixers
Quick Mix top-loading bulk material mixing systems use a vertical-auger mixing method to draw materials from the bottom of the mixing hopper, up through the center mixing tube, to the auger-top dispersing paddle where material blending continues; accelerating the homogeneity and cycle time of the process. Dry bulk material mixing and blending occurs quickly and accurately; material integrity is protected and finished product is thoroughly and homogeneously mixed for further processing or packaging.
Jumbo Whirlwind Mixers - Bottom Load
NBE bottom-loading Whirlwind mixing systems are designed for batch mixing applications where a high level of homogeneity is required, or where materials from multiple input sources, such as a vacuum system and bulk container, are being introduced simultaneously. By introducing material to the bottom of the mixing vessel, Jumbo Whirlwind mixers achieve a quick and thorough integration of even challenging materials like powders and other dry additives.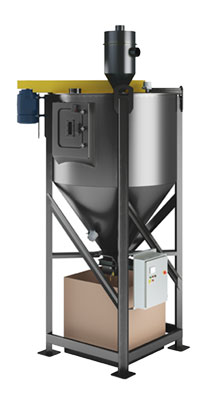 Jumbo Quick Mixers - Top Load
NBE Jumbo top-loading bulk material mixing systems are specially constructed for high-volume batch mixing applications where the mixing process must completely cycle in just minutes. A vertical solid-core auger pre-mixes material as it is drawn up and out of the center mixing tube. Top-mount, broad-throw dispersion paddles ensure a homogeneous mix. For processing operations handling up to 25,000lbs, NBE Jumbo mixers supply dry bulk material mixes that are thoroughly and repeatedly prepared for downstream processing.