Dry Bulk Material Filling
National Bulk Equipment bulk material filling projects enable packaging and processing operations to run production at designed speeds without concern for recurring material waste, rework, or excess labor allocation common with under-performing bulk material filling systems. Project owners, AECs, and EPCs work with confidence in the performance-proven outcome of NBE bulk material filling projects. The fullstream project integration capabilities inherent in NBE engineered-to-application project execution provides operators, supervisors, and management the assurance of consistent performance from NBE bulk container filling. NBE bulk material filling systems, applied downstream within an integrated and automated line, contribute performance advantages across the fullstream of operations, including: improved operator efficiency, reduced material loss, and increased production yield.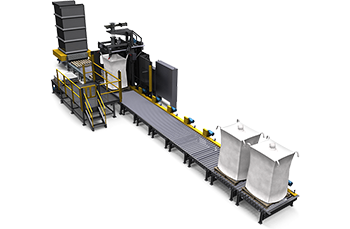 Bulk Bag Fillers
See how NBE bulk bag filling projects bring to processing and packaging operations production benefits that reach beyond downstream bulk packaging. NBE engineered-to-application project delivery proactively addresses factors such as challenging material characteristics, hazardous area compliance, and high-rate, high-accuracy filling requirements to direct the engineering and integration of these projects.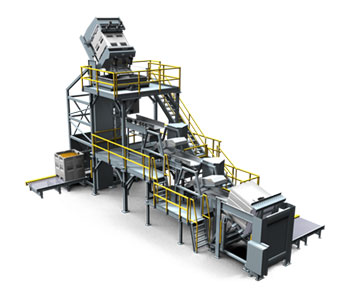 Bulk Container Fillers
Watch NBE engineered-to-application bulk container filling projects provide process-specific functionality not possible from standard units offer by typical manufacturers. Project requirements include, high-volume handling and filling of extremely fragile bulk product; and engineering of a fullstream project into a fixed and limited footprint. NBE bulk container filling systems bring tangible performance advantages to contract packagers and end-user operations seeking container filling accuracy and increased yield.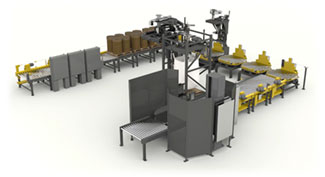 Drum Fillers
View NBE drum filling projects where process challenges, including: non free-flowing materials, fill-by-weight and fill-by-volume targets, and area weather conditions required NBE engineered-to-application project execution to ensure projects achieved designed outcomes. Working with project owners, AECs, and EPCs, NBE takes a proactive lead to ensure that performance-built NBE drum filling projects improve process effectiveness throughout the fullstream of bulk packaging operations.