Dry Bulk Material Filling
NBE bulk material filling systems enable processing and packaging operations handling dry bulk materials to run at, or above, designed uptime, rate, and quality targets when filling bulk bags, drums, gaylords, cartons, totes, or other bulk containers. Performance-proven construction ensures NBE bulk filling systems are built to handle extended duty cycles and endure harsh process environments. And, with NBE integrated automation, controls functionality is placed deeper into equipment operations to deliver more comprehensive data reporting; even when tied into legacy systems.
NBE process-integrated dry bulk material filling systems provide a total process advantage by outputting accurately filled, stable bags and containers; while reducing material loss and improving labor safety and efficiency.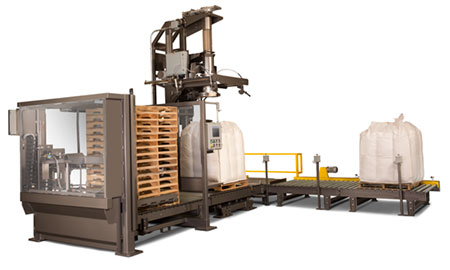 Bulk Bag Fillers
NBE bulk bag fillers bring performance and accuracy to bulk packaging operations. Designed to withstand harsh duty cycles while providing reliable and repeatable bag-full weights, the construction and automation of NBE bulk bag fillers gives bulk material processors the confidence that their end-of-line bulk bag filling is an integrated continuation of their upstream bulk material processing.
Bulk Container Fillers
NBE bulk container filling systems enable bulk packaging and processing operations to run at designed rates without concern for constant material waste, re-work, or excess labor costs common with under-performing container loading units. The NBE single-station design fills varied container types, including: gaylords, totes, cartons, even bulk bags, through the same fill station while ensuring precise fill volume and weigh accuracy.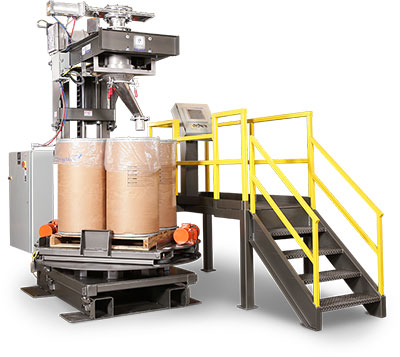 Drum Fillers
NBE drum filling systems go beyond basic load cell accuracy to provide certified, continual, precision filling and weighing accuracy. The NBE high-performance materials of construction and controls automation work as an integrated systems infrastructure to ensure operations, supervision, and management personnel that containers are stable and safe, material loss is eliminated, and line operations are optimized.