Palletized Bag Emptying and Product Infeed
National Bulk Equipment palletized bag emptying and product infeed projects bring to processing and production operations the engineered-to-application (ETA) integration and fullstream performance advantages not possible from manual methods or off-the-shelf bag emptying systems. Engineered to project-specific application parameters, NBE palletized bag emptying and product infeed projects work to ensure maximum end-of-line product integrity while reducing upstream labor requirements and improving downstream cycle times. NBE palletized bag emptying projects leverage the mechanical and automation engineering expertise of ETA project delivery to properly address process factors such as codes and standards compliance, combustible dust mitigation, and operator efficiency. Line operators, production supervisors, and corporate managers of today's highly automated and synchronized production environments recognize the tangible performance gains from NBE bag emptying projects, including: reduced material waste, optimal labor safety and allocation, and increased production yield.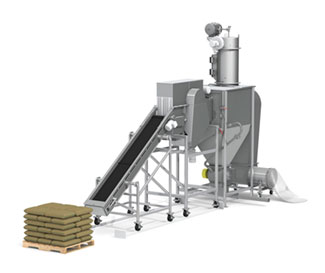 Automated Palletized Bag Emptiers
See how NBE automated, palletized bag emptier projects provide highly reliable and consistent material supply, improved material infeed rates, and greater protections for operators. The proactive application analysis framework of NBE ETA project delivery ensures process and automation functions are engineered from a fullstream context. Regardless of packaged material characteristics or target run rates, NBE palletized bag emptying projects provide improved product safety and material supply effectiveness for processing and production operations.