Dry Bulk Material Conveying
National Bulk Equipment dry bulk material conveying systems are vital in processing and production applications for the effective transfer, handling, and infeed of bulk materials. Regardless of material characteristics, material conveying volumes, or vertical or horizontal conveying requirements, NBE engineered-to-application conveying systems lessen the need for physical storage and handling of bulk containers, and reduce the loss of valuable material due to contamination and waste.
NBE dry bulk material conveying systems are not force-fit, ship-to-order kits. NBE bulk material conveyor systems are engineered, tested, and installed to provide our processing and production customers, AEC firm partners, and third-party integrators the confidence of NBE total process performance.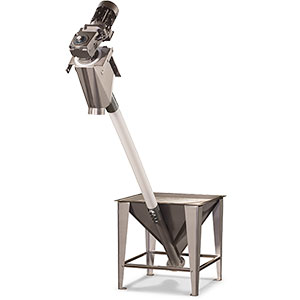 Flexible Screw Conveyors
National Bulk Equipment flexible screw conveying systems are built to ensure power, performance, and longevity in harsh applications, in demanding environments, and in extreme duty cycles. NBE flexible screw conveyors are also highly configurable for the particular requirements of each application, from the design of the discharge head to the construction of the hopper, to enable greater process integration and efficiency. Each flexible screw conveyor system is the product of an expert specification process, incorporating material testing, integration, and process requirements.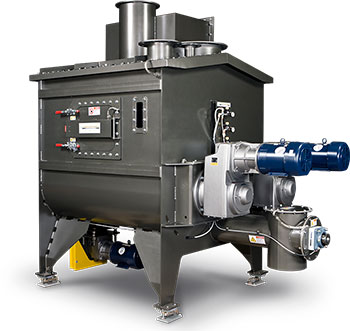 Agitator Hoppers
Agitator hopper systems are engineered and built by National Bulk Equipment to condition non free-flowing materials to a more flowable form, and deliver to downstream processing equipment a consistent, reliable supply of bulk material. The application-specific design and materials of construction of the hopper and agitator paddle enable optimal and repeatable process run rates, and predictable, dependable throughput.